Random Celebrity Memories! Vol. Eight: Buddy Guy
TWO POSTS TODAY!
Be sure to read them both at your leisure.
I believe
THE INTERVIEW, with Andy Martello
is officially moving down the old post listing today. It will certainly be there until MICHAEL writes enough posts to send it to the archives. Either way, since I've been using that interview as the inspiration for theme posts this week, today will not be any exception.
If you don't know who
Buddy Guy
is then I'm afraid we'll have to stop being friends. OK, it's not that big a deal to me, but really, get rid of the crap in your CD collection and get some basic blues knowledge.
I'll not sugar-coat this nor lie to you. I didn't actually meet Buddy Guy. I did get to work with him and looking at it, I was actually being paid to hear him play. Not a bad deal all told. This all happened a few years back at the Downtown Sheraton in Chicago.
It was another Blues Brothers gig for me and my partner, Jim. A simple enough booking really - we'd do a little meet & greet with the party guests during dinner and then perform a three-song set of Blues Brothers tunes to warm up the audience for their headliner, who was a complete and total secret, even to us.
We were to do our set and then lead the people into the next room where there were bars, desserts, and their secret special guest. The end client didn't want a living soul to know who the surprise guest was and she wouldn't even tell us for fear that we'd ruin her surprise.
We played along until the night of the show where we explained to her that she was the only person at her company that we knew and we really wanted to know who the guest was. I believe we made up some story about how it would affect our performance and guarantee we didn't accidentally blow the show for her. Total bullshit, but it got us the name.
She told us it was the legendary blues guitarist,
Buddy Guy
. We were both impressed and very pleased we didn't know who it was ahead of time. I mean, really, we're a great Blues Brothers act, but that has more to do with how much fun we have on stage and less to do with our singing ability. So naturally I was pleased to be spared of weeks worth of panic about having to pretend to sing the blues in front of a guy that practically invented them. Good news: I was going to open for Buddy Guy. Bad News: By comparison I suck!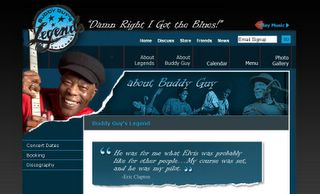 We did our set to the usual fantastic applause and laughter from the crowd. As we were singing, I kept noticing a partition in the wall next to the stage opening up, with a head peering out to watch. Every time it was Buddy Guy watching us perform rather hackneyed but enjoyable versions of Gimme Some Lovin', Soul Man, & Sweet Home Chicago. He seemed to be enjoying our performance and nodding in approval, which made me happy.
When the last notes of Sweet Home Chicago were played and the applause died down we were to start bringing everyone over to reveal their surprise guest. It was then where I realized one of the reasons Buddy Guy was checking us out.
As our song ended, he immediately jumped in and continued to play Sweet Home Chicago in the same key. To anyone in attendance, the music never stopped and it helped draw in the crowds. Like the Pied Piper of the Blues, Buddy Guy picked up where we left off and started singing once the majority of the crowd was there. No into for him. No bravado. Just kick-ass blues music being played by a legend.
He was very gracious to take some time to get the crowd to thank the Blues Brothers once again for the show and even let out an enthusiastic,
"Man, were they good!"
He could have been full of crap. He could have meant that the
REAL
Blues Brothers were good. I chose to believe he was sincere and he more than approved of our program. It just makes me feel better.
I know that the audience was warmed up because we really cooked that night. We also had a lot of folks asking why we weren't singing with Buddy. Some even were disappointed we weren't. We just explained that they were in the presence of royalty and would get over the loss. We stuck around in the back of the room to hear some of the show and he rocked the house.