Ten Things Tuesday: Differences Between Andy Martello and a Cigar: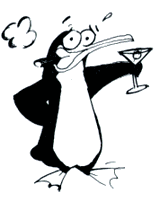 10. Andy doesn't stink up the room.
9. Andy doesn't have chew marks and spit on one end.
8. If you bring Andy to a party, no one makes you stay outside on the terrace.
7. Andy has never been anywhere near Monica Lewinsky's naughty bits.
6. Andy doesn't look like a great big smelly turd.
5. You don't have to buy expensive humidors, cutters, lighters, and ashtrays to get Andy to work for you.
4. Andy has never been in a Jacuzzi with Arnold Schwarzenegger.
3. When Andy eats fire, he doesn't spit ashes on the carpet.
2. It doesn't cost extra to get Andy out of Cuba.
And the number one Difference Between Andy Martello and a Cigar ...
1. You never see Triumph the Insult Comic Dog sucking on Andy.
(Guest post done by Golf Widow, whose birthday is this coming Thursday, April 6th. That is also Bud Buckley's birthday. As birthday gifts to us, Andy has taken a lovely trip to Vegas and left us at home to do guest blog posts for him. We can't wait for Andy's birthday.)