Hey! I Can See My House from Here!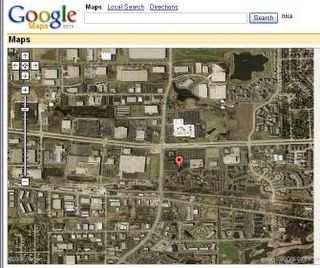 And thanks to Google Maps and the NEW satellite feature, so can you!

What you have here is an aerial view of my humble abode. If you'd like to see one of your own location simply go to Google Maps and be sure to click on the satellite feature in the upper right-hand corner of the page. Do a search of your address and enjoy the show.

I found out about this silly feature by reading the Happy Scrappy Blog. I love this blog.

Unlike myself, Jason Feifer is a REAL writer. You know, one who gets paid for his work AND works very hard to find more places to get paid to write (some things I will likely never do). He's got quite a good sense of humor and finds lots of excellent content to post on his site.

I like his presentation and his takes on world issues and I am pretty sure not enough people read his blog. How do I know this? I don't read it often enough and judging by the dearth of comments over there, you don't read it much either.

So go read Happy Scrappy. Keep one writer in business. Oh yeah, go read Marjo's blog too. I haven't mentioned her nearly often enough of late!