Big Elvis. Bigger Fun!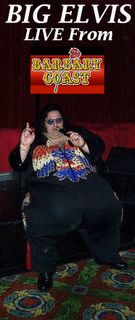 I am always one to extol the virtues of excellent performers, even if they are not me. I've gone on to talk about rock stars, comedians, movies, and of course, Las Vegas legends like Wayne Newton and Tom Jones.

Well my friends, today I feel it is my duty as an American to tell you about the one, the only, BIG ELVIS!

On our last day in Las Vegas we did our usual amount of wandering the strip, shopping, gambling, and drinking. We had just finished a conversation about how we should make an effort to see more of the afternoon shows and other attractions on our next trip when we came upon The Barbary Coast.



As luck would have it, one such show was in full swing and so we ventured in to see the unbridled majesty of BIG ELVIS, the King Size King of Rock-n-Roll!

Take a look at this magnificent creature. BIG ELVIS, also known as singer Pete Vallee, is one of the most enjoyable performers to watch anywhere. I am not normally a big fan of Elvis impersonators. I found that I am a fan of BIG ELVIS!

This guy puts on one hell of a good show. He has a great voice and a charismatic personality, if not a unique twist on the Elvis act. It is just the kind of spectacular cheese-tastic fun I would expect to find in Las Vegas. He gets the crowds singing and dancing. He knows just about every Elvis tune and sings them all to near perfection. In short, BIG ELVIS is a great show.

What's better is that this is a free show running indefinitely at The Barbary Coast. We bought a t-shirt and a CD that he was kind enough to sign for us. Please visit his website and listen to some samples of his work. Buy some CDs or other merchandise. Go to his fan forum and tell him that he is just AWESOME!

BIG ELVIS rocks and deserves your attention before he dies from a massive coronary on stage.
Labels: Big Elvis, Elvis Presley