A Word About Fan Pics
Fan pics are not just for stroking the ego, though that's one of the main reasons I want them. In my time as a blogger I've decided that I hate those stupid MEME games or whatever the hell they're called. However I do like gaining readers and therefore I will upon occasion play along.
Instead of those stupid games I choose to be a blog whore, as Bitchitude has so eloquently stated many a time. A good blog whore does his part to build readership by actively seeking out link exchanges with other websites. One great way to do this is with fan signs.
If you like a certain blog and read it often then why not take a simple fan photo and post it on your blog?
If you're uncomfortable with being plastered on the internet you can leave your face out of the equation altogether.
A fan photo with an accompanying link usually gets a few more clicks to the other person's site, inspires the subject of the fan pic to blog about your site, which in-turn will bring readers your way and so on.
Cherry Pie
sent me
my first fan pics
so I reciprocated. She's my first, I'm her first, it all worked out nicely.
Imagine the joy you'd bring to GMILF-in-training, Bitchitude if she saw an unusual number of hits coming from your site all thanks to a little photo like this one...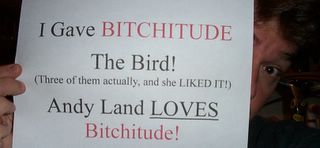 picture the surprised look on Doyle's wizened face if he received this photo in his e-mail one fine Hawaiian morning...
You're not only having some harmless internet fun, but you're doing your part to help promote the blogs and websites of some of your favorite writers. All this with one snap of your camera!

See? Big time fun! Now I am not saying that every damn guy on your link list should get a fan pic. We already waste too much time on this blogging nonsense. But when you see one of these you tend to follow the links and generate traffic for the blog.
I, of course, am just doing this to soothe my insecure entertainer psyche. I'm so stereotypically in dire need for your attention and approval I've actually offered bribes in return for fan pics. You could blatantly LIE about liking my work all to get the free stuff and I wouldn't care. How pathetic am I?
Oh, I'm also in it for the chance to get photos of naked ladies professing their love for me. Makes my ego, and other things, swell.