Rick Springfield Fans, UNITE!!!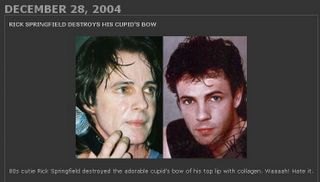 This post is primarily for the benefit of my lovely wife, April. April is one of
Rick's Loyal Supporters
and needless to say, my home has become very Rick-Friendly in the last few years.
Since Mr. Springfield can't blow his nose without me hearing about it first I find it hard to believe that I didn't hear about this from the fans. If they did in fact mention this and disregard it as hooey then I apologize for bringing up a sore subject.
The photo you see above is from the
Awful Plastic Surgery
website. This site is usually quite entertaining as it points out some horrible results of celebrity vanity gone wrong. You can see some amazing before and after pics of various celebs and how they have ruined their appearance by over-paying for bad plastic surgery. Always fun. Of course this seems to be a bit inaccurate, even for a jaded husband of a Rick fan like myself.
Since the fan club once named me
Husband of the Month
for being so patient in indulging my wife's obsession I feel it is necessary to come to the defense of the man who penned
"Jesse's Girl"
(I'm more of a
"Love is Alright Tonight"
kind of guy, but that doesn't mean I'm a monster!).
This site claims Rick ruined his upper lip with collagen
and I have to say that the "after" picture, taken recently, does not convincingly show any signs of bad surgery. It
DOES
show the affects of about 25 years worth of age. The guy is something like 54 years old now and looks better than I'll ever look at any age. If you check out any of the photos at
Rick's official site
or the
fan site
, I'm sure you'll be able to see the adorable little cupid's bow of an upper lip that brought ladies to their knees (often I dare say!) back in the day.
I'm not all hot for Mr. Springfield. I just want my wife's hero to be as perfect as she thinks he is.
That is why I've peppered this post with photos I took at a show we attended back in 2003 at
Potowatomi Casino
in Milwaukee.
That way, when the fans stumble upon this post when doing their regular searches for all things Rick they can not only see the bastards that have attempted to tarnish their hero, but they can see some never before seen photos from their past Husband of the Month. Ain't I a sweetie?
Granted, the guy who runs the surgery site is merely stating his own personal opinion about whether or not there's been any surgical mishap, but if he's wrong then I would encourage all Rick fans to
contact him
and get him to set the record straight. You might also want to post a message at their
bulletin boards
and state your opinion.
All told, I have enjoyed
EVERY
concert I've gotten to see with my wife. He puts on an excellent show and if you are a fan you'll
NEVER
find a more fan-friendly entertainer anywhere. He goes out of his way to make every person who has paid for a CD, a t-shirt, and a concert ticket feel great about their choice. He even upon occasion has some fan meet & greet sessions. That's where this photos was taken.
This was from a different show, also at Potowatomi. I edited out my wife from the pic as she hates to have her picture posted online without her permission. Rest assured, she's a babe and Rick was MOST unhappy to find out she was married to a fat fool like me!

By the way,
Rick has a BLOG
that he posts to often. His dog, Gomer, actually owns the blog but he graciously allows Rick to post whenever he wants to do so.