Happy Groundhog Day!
I hope that little guy tells Old Man Winter to
FUCK RIGHT OFF!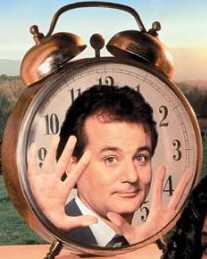 After my gig today I may just take the little lady to Woodstock, IL, where the classic film, Groundhog Day, was filmed.
It is funny seeing a town you know very well portrayed on screen as another town. Seeing familiar buildings, walking through the town, enjoying the surreal quality of it all is just big silly fun.
We were thinking of getting up VERY early and watching Woodstock's version of the traditional Groundhog Day ceremony.
But then we remembered that nobody, not human nor groundhog, should EVER be awake earlier than 9:00 AM for ANY REASON!
So wherever you are today, even if you're in Canada,
HAPPY GROUNDHOG DAY!
Have you hugged YOUR groundhog today?