Sign Up for the Absolute Write Newsletter TODAY!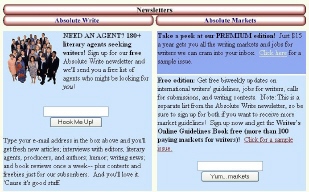 If you are a writer, a publisher, or just someone who likes to read or write, YOU NEED to check out Absolute Write. It is one of the BEST resources for folks in the writing field out there.



More importantly, their upcoming February 16th newsletter features an article written by ME!

Absolute Write has the distinct honor of being the first folks to pay me for writing something. Near as I figure that deserves a little shilling from me.

Do yourself a favor and head on over to this fine site. While you're there be sure to sign up for their FREE newsletter. Not only will you gain valuable information about writing and publishing but you'll be able to read my article, "Writing Prompts Exposed!" Sure, it is a revamped version of an article I wrote for The Cheers, but THIS one was actually bought and paid for by a credible source, so you can imagine how much better it is than the original!

Please sign up for their newsletter. You can always cancel later if you must. But I can't help but think that an increase in readers due to the presence of Andy MUST bode well for yours truly, and isn't that what this is all about?


By the way, if you own or publish a magazine or newsletter and would like to benefit from my tireless efforts to promote a product, e-mail me and get me on YOUR payroll!